Lowercase
Microcosm began in the Summer of 2011 as "Lowercase". With the release of his visual effects heavy short, "Friendly Fire" underway, Adriel Rosenfeldt felt what was missing from his work was emotion.
Inspired by a Sidekicks commercial depicting a sad little salt shaker walking in the rain, "Lowercase" would apply the same idea with a real person. This short film was also used as a school project, which received an A+ for its visuals and its message.
Early concept
In mid 2012, "Lowercase" was re-conceptualized as "Microcosm" with the intention of using custom made music. The original concept would have taken place in the winter, and featured the main character, named Josephine, recollecting as she stands on a bridge rail. The film's production was delayed until October 2013, where the green screen footage was filmed first.
Unfortunately, there were inconsistencies with the footage such as set and subject lighting, and chroma keying issues in close-ups. Shots that were successful, however, would be used to pre-visualize the look and feel of the film.
The project eventually went into hiatus as Rosenfeldt focused most of his attention to post secondary. When development resumed, the doll would be added to saturate the story's emotion and direction.
Final Iteration
"Microcosm" experienced on-and-off production with environment shots were taken throughout the year of 2014. When "Abstruse" was instated as a class deliverable, the film was placed on the backburner until its release on January 2nd, 2015
After the release of Abstruse, Microcosm was fast-tracked back into production with the intent of having it filmed prior to graduation from Film School. Granted studio space by his instructors, Rosenfeldt began a Kickstarter campaign to raise funds for the production, and met the goal needed. Rosenfeldt painted the studio space green, and filmed the green screen footage with Paige Moroziuk within a day.
Following the production wrap, "Microcosm" would undergo extensive problem solving in post production. While some shots would take hours, some would take weeks to complete due to complexities. Despite various roadblocks, all shots were successfully composited and edited together.
Moroziuk was never present during any environment shot. She was composited in post.
Music
The music was custom made by Matt Koopman, who sat down with Rosenfeldt to flesh out ideas on the composition. Koopman's contribution became vital to "Microcosm" as the score cemented the emotional weight.
For more of Koopman's work, check out his soundcloud. Rosenfeldt intends to work closely with Koopman in upcoming projects.
Festival Run and Aftermath
"Microcosm" was accepted for screening at the Edmonton Short fIlm Festival (ESFF) in October 2016. It was the only short to be screened twice at the event; the second time during their new Family Friendly event.
In July 2018, "Microcosm" will have a third screening with ESFF at Northlands' K-Days event. It has been selected along with five others as a "best of" ESFF short.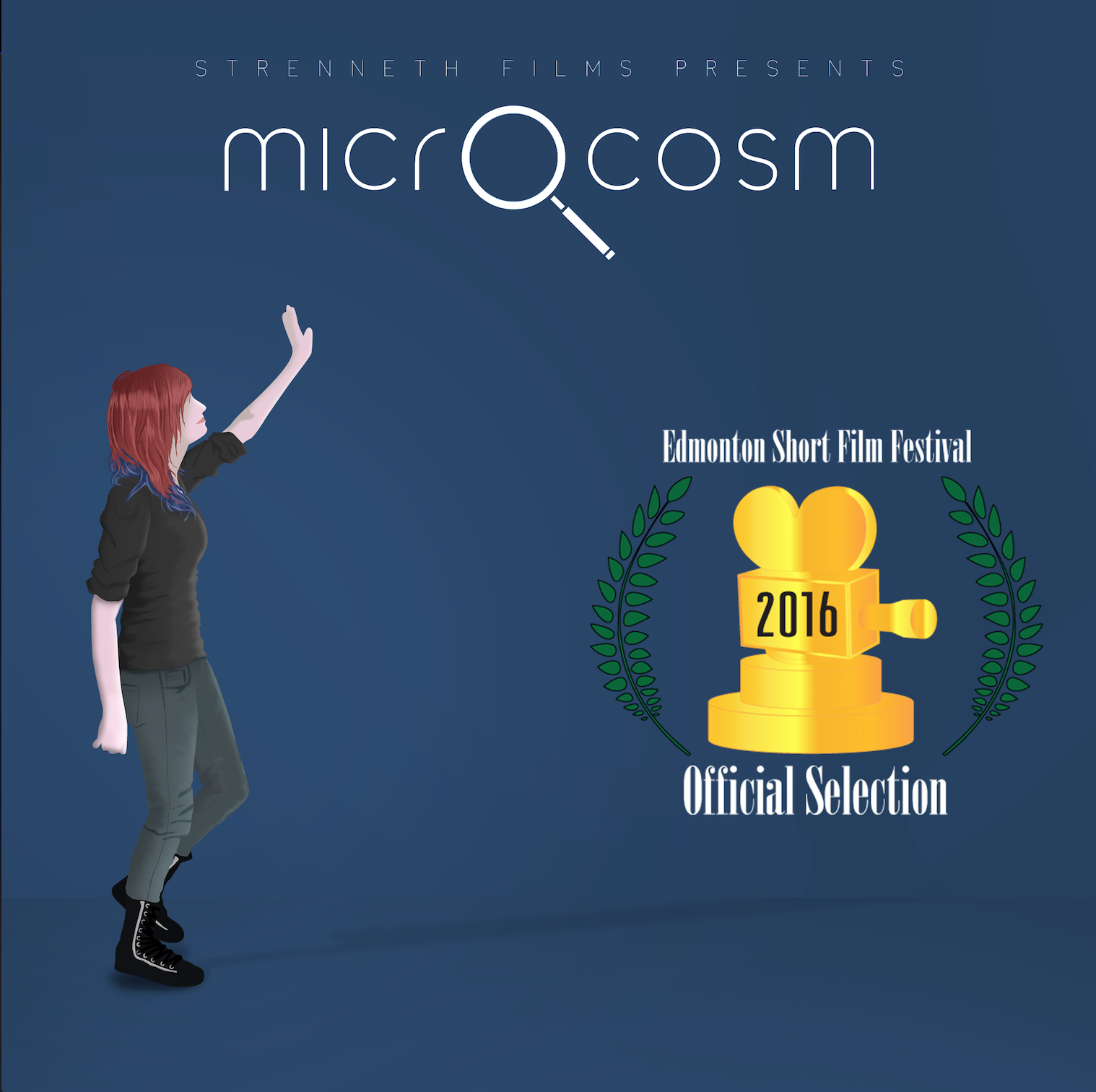 "Microcosm" was released July 22nd, 2016.